---
---
DATA FLOW DIAGRAM FOR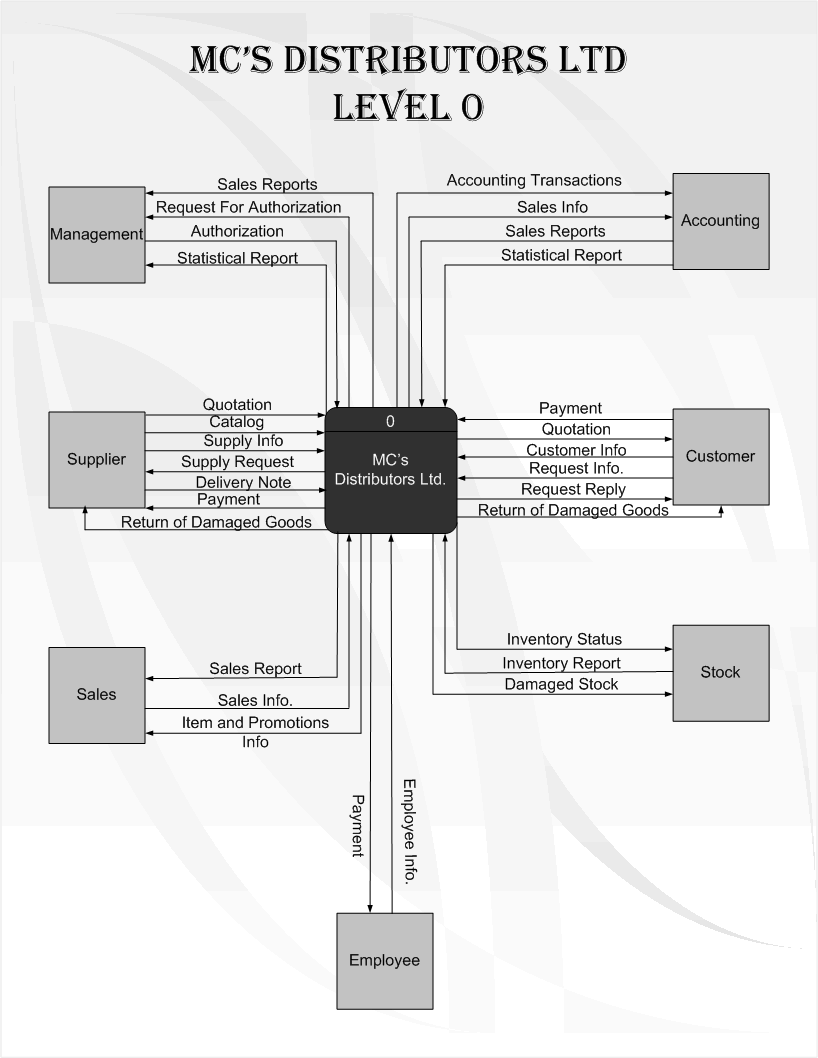 Explanation of Components of the DFD for the Proposed System
Level 0
ENTITIES INVOLVED IN PROPSED SYSTEM (LEVEL 0)
Stock – Sends order information and receives the delivery note, keep up-to-date inventory status and creates report.
Supplier – Supplies the ordered items to the company, sends a catalog and the delivery note, and receives payments.
Sales – This entity performs the sales of an item and receives the order information to be sent to accounting.
Customer –Request item information and receives reply.
Management – Gives authorization for ordering items and receives reports.
Accounts – Makes payment to supplier and employee, creates reports such as sales, damaged goods.
Employee – This entity is the one that performs work duties such as sales.
DATA FLOWS IN PROPSED SYSTEM (LEVEL 0)
Authorization – This is permission granted for the ordering of stocks.
Accounting Transactions – This are the transactions that the carried out by the Accounts entity e.g. payments.
Sales Report – This is a report of all the items that are sold by the company.
Sales Information – Information such as code of item, description, price etc.
Delivery Note –This is a form of receipt that the company receives from the warehouse stating all the items that they ordered with description and amount and the date delivered.
Catalog – This is all the items that are available at the warehouse
Order Information – Information about the item ordered, customer who ordered the item.
Supply Information – This is information about all the items that are available for
ordering at the warehouse.
Inventory Status – This is the amount of items that are in and out of stock.
Inventory Report – A report stating all the items that are in stock.
Receipt – This is a receipt showing payments of items.
Items and Promotions Info – This is information about items necessary promotions such as discounts.


Please contact cucmichaelphillips@hotmail.com
with your questions, comments, and suggestions.
Copyright © 99710 Webdev™ Inc. All rights reserved.